ArcaOS 5.0 Russian
Russian ARCAOS exists and it's available since the middle of 2017. All versions are supported: 5.0, 5.0.1, 5.0.2.

eCo Software is able release OS/2 LIP packages for any other language (German, Dutch, Brazilian Portuguese, Spanish, Sweden, etc)
Piano Launchpad for professionals

TITLE: Piano Launchpad for professionals
DATE: 2007-06-06 03:03:55
AUTHOR: eCo Software
Please use online translator
go to http://translate.google.com
and request the translation of http://en.ecomstation./showarticle.php?id=158
to your language
Introduction
The desktop is full of objects and shadows usually. To start a new program you should minimize all running applications and find the program in the heap. To simplify the startup of applications and simplify the navigation over the desktop and increase your productivity, we have created Piano Launchpad which has important features:
support of large transparent icons
auto-hide feature
dynamic drawers
Before installation of Piano Launchpad please pay attention to this propositions:
Piano Launchpad is an addon to eCenter, not its competitor.
All objects on Piano Launchpad are shadows


Screenshot: Piano Launchpad (at the bottom of desktop)
Setup
How to organize your Desktop? How to sort the objects?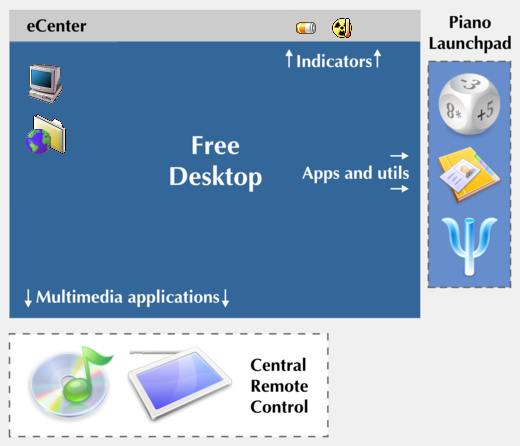 Scheme: How to clear the desktop?
We recommend to follow this approach:
First of all, move eCenter to the top of screen.
Place indicators on eCenter, in the top of the desktop. If you want see time, battery level or CPU load, simply look at the top of the screen (no need to move mouse or click)
Put standard applications to Piano Launchpad, activate auto-hide feature. To see the list of applications, move mouse cursor to a corner and call the Launchpad. To run an application, click it.
We recommend put multimedia applications to Central Remote Control menu and switch between multimedia applications using remote control or multimedia keys.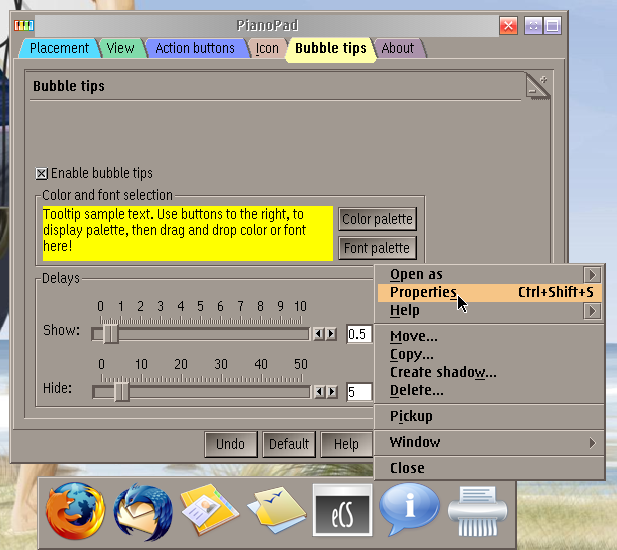 Screenshot: To setup Piano, press RMB either on the border
of the PianoPad or on the PianoPad object on the desktop,
to invoke PianoPad's context menu. Then, select "Properties"
Check the settings:
auto-hide - touch a screen corner to call Piano Launchpad.
hide in 0.2 sec
compact form
force PNG icons usage
Drop Piano Launchpad to Startup folder.
Extra settings
How many Launchpads to use?
We recommend to create one Launchpad. If you want to put 50 objects on Launchpad then you don't need it, keep the programs in the folders on the desktop.
To create new Launchpads use scripts from Piano distribution package.
Which size of icons to select?
Large icons are useful if using screen resolution is larger than 1280x. No need to peer into the icons. The size of icons depends on dimensions of the monitor. 12" LCD requires small icons, 24" LCD makes you use giant icons.
If you keep 5-7 objects on the Launchpad then use large size. 64x64 is the default.
If you created several Launchpads then you can select smaller size, 40x40
If you don't need large icons then select smaller size, select [x] Force PNG
How to place the Launchpad? Horizontal or vertical?
for widescreens - vertical (there is much place on the borders of the monitor)
standard monitor - put the Launchpad in the horizontal (to convert your screen to widescreen)
Usage
How to add objects to Launchpad
You have to drop it BETWEEN two objects on the PianoPad, a black line marker will appear, if you can drop now.
If you want to attach new icon, press RightMouseButton, attach new PNG icon.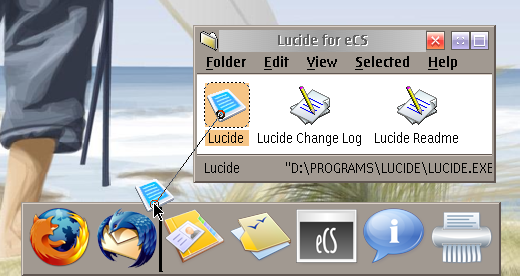 Adding objects to Piano Launchpad
How to move objects?
Use Drag&drop to shift objects. Pay attention to the behaviour of Dynamic drawers.
How to remove objects from Launchpad:
RightMouseButton -> Delete
eCS 2.0 beta 4 or higher - Delete works fine
eCS with old eWorkPlace - drop object to Shredder (Shredder removes the object, Trashcan doesn't)

Remove objects via popup menu or using Drag&Drop
How many objects to keep on Launchpad?
Put 5-7 objects to 1 Launchpad.
If you need more objects then create a drawer, put 5-7 objects to every drawer.
Dynamic drawers:
Standard drawer contains objects which were placed to it.
The contents of the dynamic drawer are updated when you open it. It is useful for drawers with documents, disks drawer, etc. You can morph a drawer to dynamic drawer via popup menu.
Usage for corporative customers
The Start button, The Piano Launchpad play important role for corporative usage. Seat an employee to eComStation PC, put the Piano Launchpad to the desktop and fill it. The employee can easily start needed applications and make work.
Pay attention to other features:
Quick circulation:
You can prepare default Launchpad configuration one time and use it to create Launchpads on many computers in your office. Read the source code of CREATE.CMD script and follow instructions.
Ready for Work area:
Your employees need comfortable standard environment for every separate task. For example, an employee is working on projects: "Che", "Bura", "Shka"
Create folders "Che", "Bura", "Shka"
Morph all this folders to Work areas. Folder Properties -> File -> [x] Work area
Create three Piano Launchpads, drop to this folders (work areas)
accumulate documents related to the 1-st project in "Che" work area, 2-nd in the "Bura", etc. You can keep in the folder source code, pdf/html documents, URL objects.
put corresponding programs to the Launchpads. One set for "Che", other set for "Bura"
start/open documents and programs in every folder, don't close them. Then close all folders.
Now open "Che" work area: "Che" Piano Launchpad is started. All documents which were opened in the past, are opened automatically. If close the "Che" work area then the launchpad and all opened documents/programs from this work area are closed. Now open the "Shka" work area. All documents and the launchpad are opened immediately. No need to click dosenz of files one by one. To close "Shka" work area, close the "Shka" folder.
As you can see, work area feature is useful in cases when the employee should quickly switch between different sets of documents of different nature. No need to start/open files one by one.
The perspectives
Piano Launchpad opens the door for large resizable icons on eComStation desktop. Large icons means new redesigned icons.
We do not plan implement animations. We should keep the spartan interface. Our goal is increase the productivity of users.
---
Additional information
We are collecting Tricks & tips in the FAQ
The Piano Launchpad is distributed by eCo Software
The concept: Eugene Evstigneev (aka Validat0r)
The developer: Konstantin Kozlov
Designers: Validat0r, WiZard
The director: Eugene Gorbunoff
Comments:
Mike O'Connor
2007-06-06 22:00:51

Good to see Workarea usage promoted - finally! I've always loved it, since it was introduced.

One of the many, many features of OS/2-eCS that just doesn't exist ANYWHERE else!

Looking GOOD!

Wish eCoSoft great ongoing success

Mike

Mark Dodel
2007-07-01 03:01:20

eugene,

Any chance you can make the background transparent?

Mark

Eugene Gorbunoff
2007-07-01 09:53:59

No transparency It doesn't increase usability.

Mark Dodel
2007-07-08 07:22:36

Transparency does increase the coolness factor. It would significantly differentiate Piano from OD's tab launchpad and the toolbar. The OS/2-eCS desktop really needs a push into the future and I think this is part of it, but it needs to look contemporary and the Mac OSX dock sets the bar in that regard.

jthebay
2007-08-06 14:16:59

please make it transparence!!

Lutz
2007-08-18 01:05:55

Eugene,

thanks for the work.

I agree with you that transparency does not increase usability but I believe animations would do if they can be used as status indicators.

The idea of dynamic drawers is a great improvement and leads me towards the following idea:

To generate automatically a drawer if an application has been started and opens more windows would be fantastic as it helps to manage programmes like Firefox..

Sure an actual snapshot of the window to be shown as a large thumbnail instead of a standard symbol whenever you move the pointer over a symbol in such a drawer would top it.

As most people will still know OS/2 has a launchpad since version 3. And with some REXX scripting you can get it to appear in more than one instance and also changing the content of it. It used also only shadows of objects and with this one error is know, it does not delete the shadow if the original object has been deleted. The options of its appearance were always satisfying my needs.
Comment this article.